One of the indispensable professions of urban planner is to plan their neighborhoods, communities, urban and rural areas, metropolitan areas, regional and territorial environment in order to lead the development of cities toward more sustainable ways. Since 1950, there has been increasing demand for urban planners who have the ability to deal with rapid urbanization and environmental development. Therefore, experts from Taiwan in the United Nations Association strongly recommended that the establishment of Department of Urban Planning in the National Cheng Kung University. The undergraduate program of Department of Urban Planning was build at first in 1971. The Master program was established in 1987, aiming at planning and design professional diversion to face difficult challenges of the environment planning, spatial planning and designing. In 1994, PhD program was established, encouraging people who hold a Master's degree in related fields such as urban planning, construction, land administration, civil engineering, environmental, and social sciences, etc to engage in. The goal of the department is to become the top planning department and the only one which provides complete degree programs in Taiwan.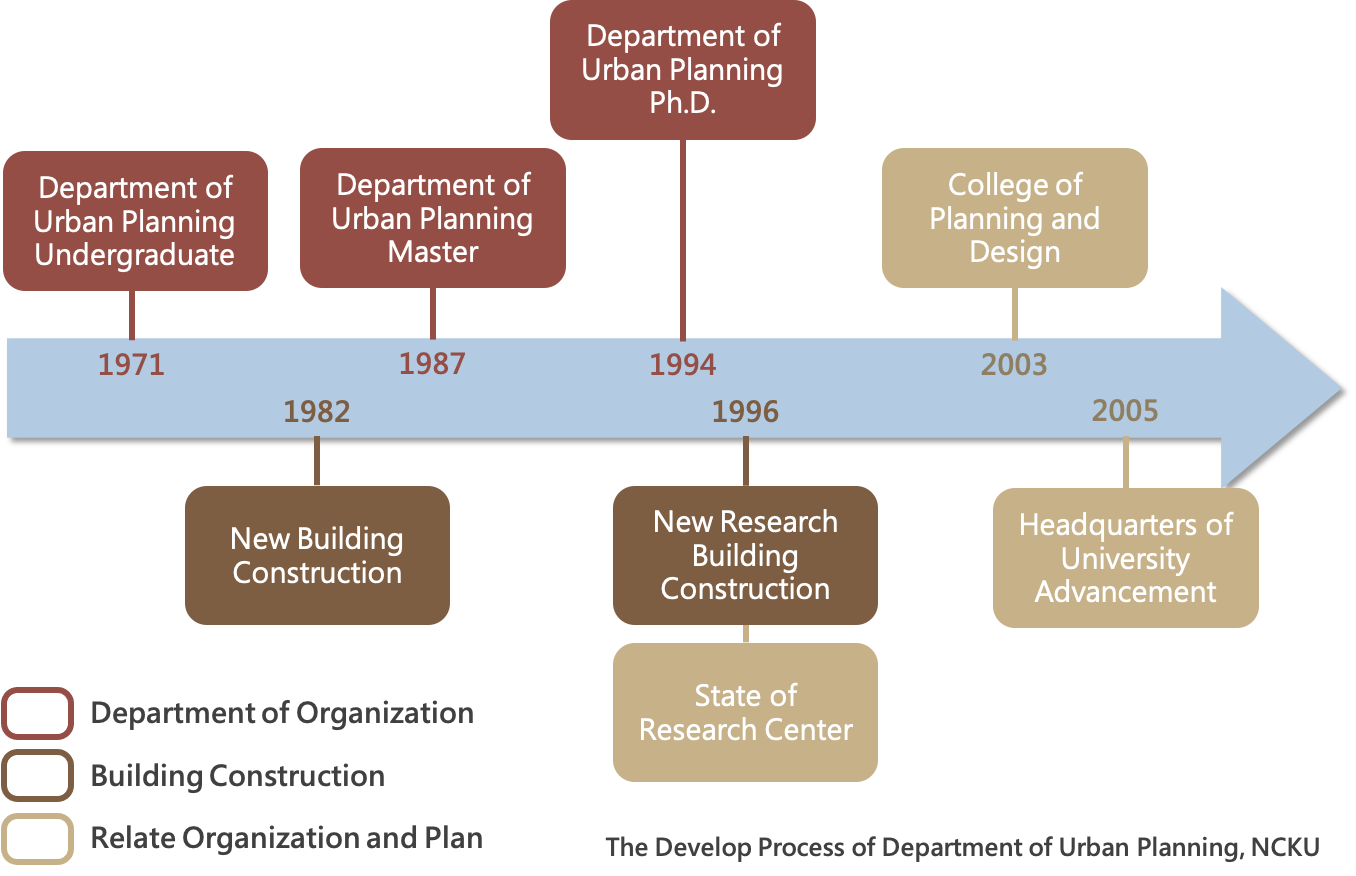 The department aims to train talents in planning field for urban development by efficiently allocating human activities over the urban and rural areas.  There are about 50 undergraduate students, 50 master program students and 6 doctoral program students enrolled in the department annually. The faculty of the department consists of 16 full-time and 10 part-time faculties. The new department building was constructed in October 1996. Within the new building, there are sufficient spaces for researches, student training and also the administration affairs, such as the GIS laboratory, computer laboratory, and auditorium…etc. With the multi-talented faculties and well-equipped facilities, the department provides a full environment for studying urban planning.
One of the goals of the department is to deal with domestic urban resources to well-arranged the human activities by land use, and balanced the development of cities and countries. Following the trend of the times is what we look up, so we specialize in many fields, like Urban Economic, Urban Sociology, Urban Design, and Urban traffic, and the objective analysis of cities and countries' development issues and the solid research in Planning Analysis Methods are also our specialties.
In conclusion, the vision of the department is to eagerly become the top-notch spatial planning department worldwide. To reach the goals, there are three steps need to be done:
Full-hearted nurturing ambitious, professional, creative, and scientific elite spatial planner with worldwide vision.
Positively recruit interdisciplinary master and PhD students provides with high-end academic and applied research ability. Wishing to create the system of spatial planning and design knowledge, and leading the trend of national planning and design, and academic development.
Actively raising international academic and professional exchange activities, and providing creative spatial planning and design for industry-university cooperative research project.
Our curriculum design emphasizes on both theoretical and practical training of urban planning. Based on faculty members' teaching and research experiences and emerging planning issues, the curriculum focus on the following fields.
Undergraduate Program
Emphasize on training in basic planning and design theories and skills of pragmatic planning.
Master Degree Program
Focus on planning theories, analytical methods, and techniques in different fields of specialization. Also, training of thesis academic writing is emphasized to ensure the graduates obtaining the ability of independent research work.
Doctoral Degree Program
Facilitate an individually-designed academic program for each doctoral student in an interdisciplinary setting for advanced research and professional work.
| Classification | Domain | Categories |
| --- | --- | --- |
| Core Trainings | Urban and Regional Planning | Environmental Planning, Urban Planning, Regional Planning, etc. |
| Core Trainings | Urban Design & Regeneration | Urban Design, Urban Regeneration, Urban Development, ect. |
| Support Trainings | Economics and Sociology | Urban Economics, Industrial Development, Real Estate, Urban Sociology, etc. |
| Support Trainings | Transportation and Urban Engineering | Traffic and Transportation, Urban Infrastructure, Environmental Engineering, etc. |
| Support Trainings | Information Technology | Information System & Technology, GIS, Computer-Aid Design, etc. |